DC Charging Stations
TRITIUM RT-50KW
Tritium's RT50 is a compact, reliable, and robust DC fast charger capable of charging all EVs on the market. This all-in-one unit is small enough to suit your site's configuration and maximize your parking space without the need for expensive site modifications. The RT-50 provides ample real estate on the unit to clearly display your brand.
The charger's small footprint and its scalability enable a vast range of deployment options such as shopping centres; retail outlets; multi-storey car parks; department and convenience stores; restaurants and dining establishments; municipal and national parks; tourist attractions; sporting facilities; schools; and rest centres.
Features include:

Australian made award winning 50kW DC Station
Liquid Cooling suitable for Australian Climate
Free print of Corporate Branding graphics on Charging station. Graphics need to meet the requirements provided in the template provided by Tritium
Small Footprint
OCPP Compatible
Dual Socket (CCS1 or 2 + CHAdeMO)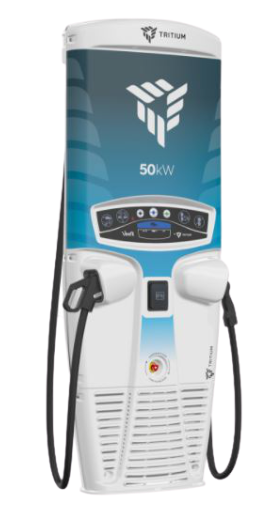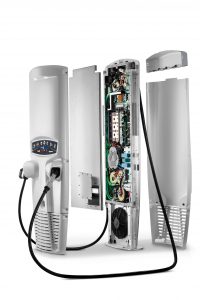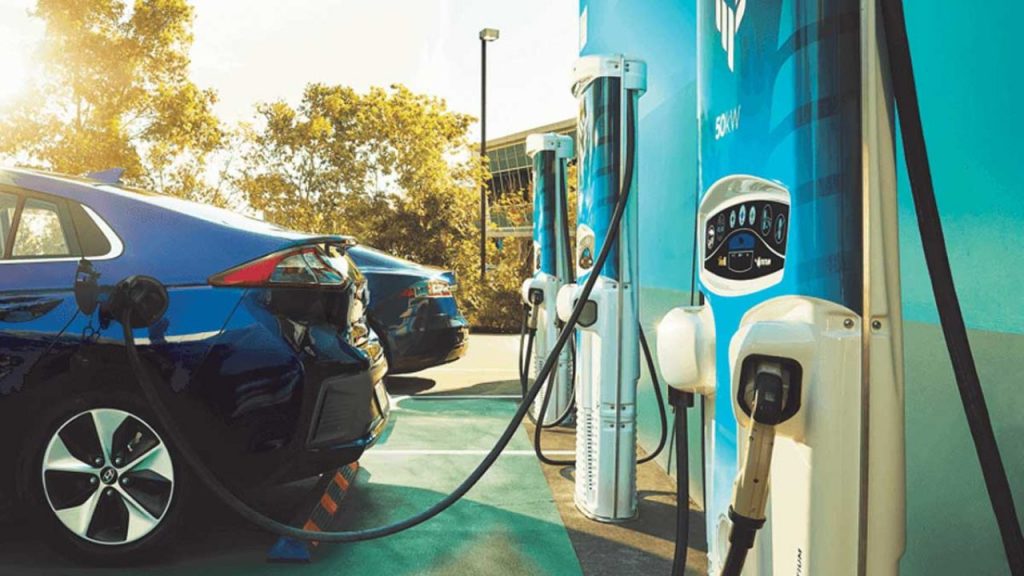 CONNECTORS

CHAdeMO and CCS (Type 1 or 2)

POWER

Up to 50kW

SUPPLY INPUT

380 – 480 V AC 3ø

SUPPLY FREQUENCY

50-60Hz

IP RATING

IP65

EFFICIENCY

>94%

POWER FACTOR

0.99

MAXIMUM OPERATING ALTITUDE

2000m (6560′)

OPERATING TEMPERATURE

-35

o

C to 50

o

C (-31

o

F to 122

o

F)

STORAGE TEMPERATURE

-55

o

C to 80

o

C (-67

o

F to 176

o

F)

NETWORK CONNECTION

3G/4G and Gigabit Ethernet

RFID

MIFARE ISO/IEC14443A/B, ISO/IEC15693, ISO/IEC18000-3, FeliCa, NFC, EMV 2.0

CREDIT CARD READER

Optional

COMMUNICATION PROTOCAL

OCPP 1.6J

WEIGHT

167kg (369 lb)

ELECTRICAL PROTECTION

Short circuit; Over voltage

DIMENSIONS

2000 (6'7″) (H) x 750 (2'6″) (W) x 330 (1'1″) (D) mm

FREIGHT

24 units per 20' container

CERTIFICATION

CE, UL, CHAdeMO, RCM, FCC
Key Features:
• Smallest footprint of any EV DC fast charger on the market.
• Light yet robust construction enabling installation without the requirement for heavy equipment (such as cranes) or extensive concrete works.
• Ease and speed of installation means that benefits are realised more quickly for faster Return on Investment (ROI).
• Equipped with ISO 15118 Plug and Charge technology for hassle-free authentication and payment.
• Patented liquid-cooled technology providing the highest ingress protection rating (IP65) with sealed electronics enclosure.
• Slim and compact form with contemporary design.
• Durable and robust metal framework – IK 10 (HMI IK8) – covered by a lightweight but sturdy and vandal-resistant plastic shell.
• Tailor-made front and back decals to your design specifications to enhance your brand and enable customer loyalty.
• Front and back LED down-lights that illuminate your branding.
• Increased operating temperature range (-350C/-310F to -500C/1220F).
• 3G/4G wireless communication.
• Effortless OCPP integration.
• 125A CCS1/CCS2 and 125A CHAdeMO connectors.
• Continuous 125A charging without the need for liquid-cooled cable.
• All-in-one unit, with reinforced isolating transformer.
• Credit card reader with several payment model options (including Cloud API).
• Extra low voltage power supply for increased user safety.
• Surge protection from lightning strikes with integrated SPDs.
• Intuitive Human-Machine Interface (HMI) layout with clear icon displays for ease of operation.
Unique Benefits:
• World's smallest footprint.
• Short enough to fit in a multi-story car park – 2,000mm (6'7") (H).
• Small enough to fit into existing sites – 750mm (2'6") (W) x 330mm (1"1") (D).
• 165kg (364lb) (weight) allows reduced set-up costs and faster installation times.
• Cutting-edge technology engineered for reliability and a wide range of grid voltages – 400V 50Hz, 480V 60Hz.
• Optimal functionality in a wide range of environmental conditions.
• Increased site location options boosting car park potential.
• Reduced wear and tear on internal components for maximum hardware lifespan with minimum maintenance.
• Effortless pay and connect – first time, every time.