AC Charging Stations
ABB TERRA AC WALLBOX
The Terra AC wallbox provides tailored, intelligent and networked charging solutions for any business, home or location. The new Terra AC wallbox is available in up to 22kW variants to ensure compatibility with the electrical system of homes and buildings. The wallbox benefits from connectivity that enables configuration and software updates via a dedicated App or remotely via the cloud, providing a lot of flexibility and minimizing the need for onsite intervention and maximizing uptime and efficiency. With connectivity and smart functionality, the Terra AC wallbox is built
to adapt to deliver the most optimized charge .
Scroll to the end of the page and download the detailed technical manuals in PDF format. 
Features include:
Broad range of connectivity options including Wifi, Bluetooth and Ethernet.
Cloud based dynamic load management.
Dustproof and water resistant in harsh weather conditions enhancing uptime and product lifetime.
Future-ready with simple software updated via the user App.
Simplified authentication via either RFID or the App provides flexibility for public-use case applications.
Current limiting protection allows maximum charging power without nuisance tripping
Integrated ground fault and over-voltage protection protects both user and car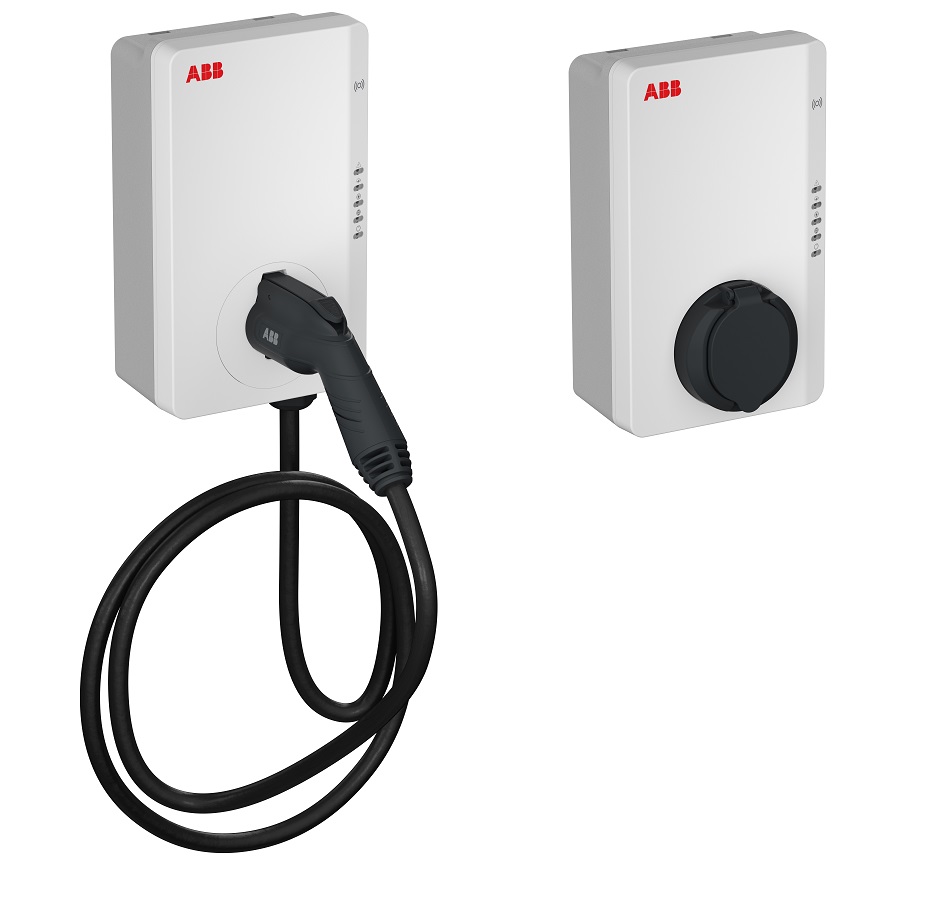 Product information
Charging type
Mode 3 charging, level 2
Input/output power rating and current
IECratings: Single phase up to 7.4 kW / 32 A Three phase up to 22 kW / 32A
UL ratings up to 7.7 kW / 32 A
Input/ouput voltage
Single phase: 110 … 240 V
Three phase: 380 … 415 V, 50 / 60 Hz
Network type
TT, TN
Socket outlet
or connector type
Type
2 socket with or without shutter
Type 1 or type 2 cable. Cable can be wrapped around the charger
Protection
Overcurrent, overvoltage, undervoltage, ground fault including DC residual current
protection, integrated surge protection
Overvoltage category
III
Energy metering
Revenue grade energy meter Class B (+/- 1%) , MID certification on display variants only
Mobile communication with nano SIM socket
EU: GSM, 4G, LTE, WCDMA US: 4G, LTE, WCDMA
Available configurable contacts
1 input, 1 output
User Interface
Connectivity
Wifi, Ethernet (RJ45), Bluetooth, RS485, 4G / 3G
User authentification
ABB RFID card (1 included) or ChargerSync™ app and portal
User interface
TerraConfig app or portal for setup, ChargerSync™ app or portal for use
Communication protocols
OCPP 1.6 and RS485 for energy meter connection
Status indication
5 LED's
Configuration
Software update
OCPP 1.6, ABB web portal or App
Control and configuration
ABB web portal or App
General characteristics
IP and IK rating
IP54, IK10 (IK8+ for operating temperature from -35 to -30 °C)
NEMA enclosure type
NEMA 3
Operating altitude
2000

m
Operating temperature range
-35…+50 °C (derating may apply)
Storage temperature range
-40…+80 °C
Mounting
Wall or floor using a pedestal
Dimensions (H x W x D)
320 x 195 x 110 mm
12.60 x 7.68 x 4.33 inches
Certification and standards
Safety standards
IEC/EN 61851-1, EN 62311, EN 62479, IEC/EN 62955
TuV listed conforming to UL 2594, UL 2231-1, UL 2231-2, UL 1998, CSA C22.2.
NO.280
Codes and standards
IEC61851-21-2, EN 61000-6-1, EN 61000-6-2, EN 61000-6-3, EN 61000-6-4, EN
61000-3-2, EN 61000-3-3, EN 61000-3-11, EN 61000-3-12 CE RED- WLAN / RFID / E-UTRA: EN 300 328 V2.1.1, EN 300 330 V2.1.1, EN 301 908-1 V11.1.2, EN 301 908-13 EN 50470-1, EN 50470-3
FCC Part 15 Class B ENERGY STAR
Certification
CE, CB, MID, UL
Warranty
24 months